Premier Equine Cross Country Boots Sizing Guide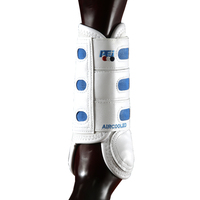 Premier Equine eventing boots are used by top riders worldwide.
Patented air-cooling technology and lifetime guarantee strike guards ensure maximum comfort and protection for your horse. Ride with confidence knowing that our technical fabrics have been carefully selected and sculpted to create strength and provide the best protection for your horse.
The sizing on these boots is generous so please refer to the sizing chart below.
It is a very large horse that wears a large size. So a finer thoroughbred in this size range is most likely going to still wear a medium.